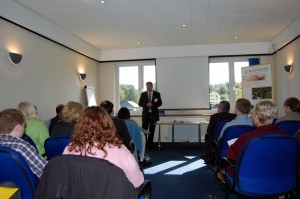 On 21st September 2011 an event was held in Edinburgh to celebrate the beginning of the charity IWORK4ME and to launch our new website.
This was an important occasion in the history of the new charity as it marks the end of the setting up of the charity and the beginning of real work, offering advice and supporting people with self employment.
Richard Ibbotson (Trustee)welcomed around 30 people and thanked fellow trustees and our 2 volunteers (Caroline and Ana) who had helped the development of the charity to this stage
Peter Corry (Trustee) gave an overview of the history of IWORK4ME and how we had got to this stage. The summary of the history and background to the establishing of the charity is on the About Us page
Sandra Rafferty spoke about her experience of supporting her son to become self employed by setting up his own bookshop
David Williamson (Trustee) then gave 2 other examples from his own experience of individuals he has supported to become self-employed which gave the audience an insight into the range of self employment possibilities that people with autism can achieve
We are now looking forward to the next stage of development of IWORK4ME.
---
---